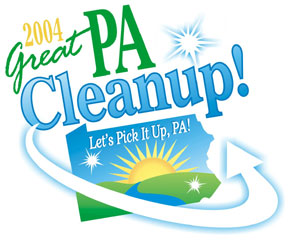 Two local non-profit organizations are sponsoring cleanups on Saturday, April 24, 2004, as part of the 2004 Great PA Cleanup. The theme of this year's cleanup is "Let's Pick It Up, PA!" and everyone is encouraged to join in!
The Rail-Trail Council will meet at 10 a.m. next door to Cable's Store in Union Dale and work until 12 p.m. cleaning up the trail. The Lackawanna River Corridor Association will cleanup areas along the Lackawanna River Heritage Trail in the Mid Valley. For details visit the Rail-Trail or Lackawanna River Corridor Association web sites.
Volunteers welcome! Lets work together to make The Great Pennsylvania Cleanup 2004 a success in our corner of our state.