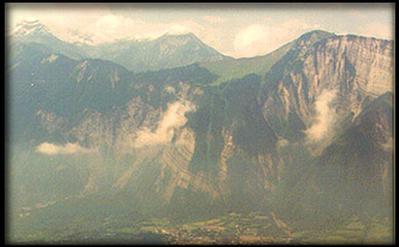 The view across the valley from the road to Alpe d'Huez, Isere province, southern France (photo circa 1973); site of a particularly grueling stage of this year's Tour de France bicycle race.
Cancer survivor and leader of the US Postal professional bicycling team, Lance Armstrong will be racing up this 9 mile road alone, one step closer in his pursuit of an unprecedented sixth consecutive Tour de France victory.
Best wishes to Lance and his team, whose accomplishments should serve to inspire each of us to engage our personal challenges, large and small, with courage and resolve, knowing that it is individual effort, alone and in teamwork, that redefines "what is humanly possible"
Go Mellow Johnny, Go!