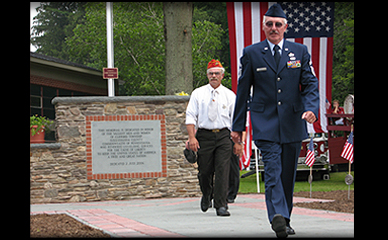 On Veterans Day, Saturday, November 11, 2006 salute America's Veterans
by taking time to remember their sacrifice and service to our country.
The Veterans Memorial at the Clifford Township Building was dedicated on Sunday, July 2, 2006
to honor living and deceased Veterans.
There is still space available for engraving Memorial Bricks to commemorate a Veteran or loved one.
For more information or to order a Memorial Brick, visit cliffordpa.com
THIS MEMORIAL IS DEDICATED IN HONOR
OF THE VALIANT MEN AND WOMEN
OF CLIFFORD TOWNSHIP
SUSQUEHANNA COUNTY
COMMONWEALTH OF PENNSYLVANIA
WHO RENDERED UNYIELDING SERVICES
FOR THE CAUSE OF LIBERTY
TO KEEP THE UNITED STATES OF AMERICA
A FREE AND GREAT NATION
DEDICATED 2 JULY 2006