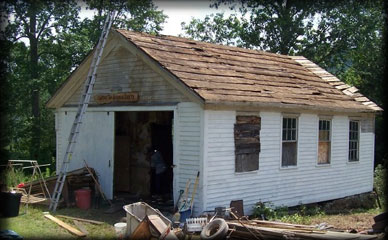 The Hoover School renovation project took a huge leap in the past week. Volunteers John Swetter, Mark Wilmot, Larry Wilson, Buzz Boomer, Bernie Swetter, Pat Peltz and Sandy Wilmot had previously ripped the old metal roofing and wood shingles from the school building (an incredibly filthy job!) and cleaned up the grounds and school interior.
Despite scorching temperatures, a dedicated crew of carpenters and helpers, sistered all the rafters, replaced trim and fascia boards, put all new plywood on the roof and installed the new metal roofing that looks like wood shakes. Jerry Lewandowski, Joe DiNento, Larry Wilson and Mark Wilmot did the carpentry work. Nancy, Carol and Grant Folin helped too. The next step is the exterior painting.
Many thanks to all the workers for the great job – the new roof looks fabulous!!!