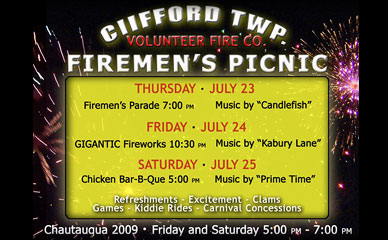 Come to the Clifford Picnic Grounds on Rt. 106 for refreshments, excitement, clams, games, kiddie rides, carnival concessions, and more!
There's a parade on Thursday night, Fireworks on Friday night, a Chicken BBQ on Saturday evening, and live music every night!
Also, on Friday and Saturday evenings from 5 to 7p.m. Chautauqua 2009 will feature Civil War era music, dance and presentations.
Picnic dates: July 23, 24 & 25, 2009
Info: www.cliffordfire.com
www.cliffordfire.com