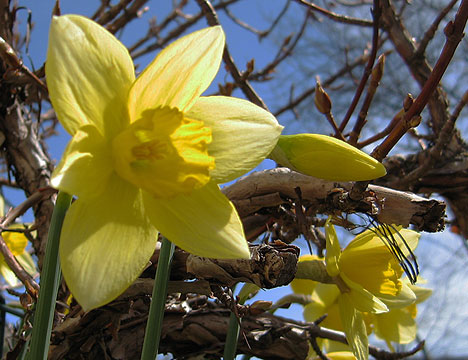 Finally – color in the yard!
Daffodils have burst out seemingly everywhere, abundant buds, near and far, tinge branch tips pale green and rust, wild Trout lilies underfoot on forest trails will blossom soon.
Much going on these days: the Lyrid meteor shower which began earlier this week is expected to peak just before dawn on Monday, 22nd April, which happens to be Earth Day. Check The Wanderlist for several opportunities to be kind to our Mother Earth this weekend. Cleanups are scheduled for several areas, or learn about recycling and composting at Salt Springs Park. Quietly immerse yourself in local beauty from on high and enjoy a wonderful hike to Stillwater Cliffs with the Studio Be crew.
For those of us who dwell here on The Hill and rarely range far from it, it's pretty difficult to not be awed by Nature no matter the season – all one needs to do is walk slowly with open eyes. Those of us whose usual environment is dominated by sidewalks and streets may have to make a bit more effort – maybe enjoying flowers in a window box, trees in a park, birds sweeping by, stars over head.
Regardless of where we find ourselves, it's prudent and beneficial to remember that we are products of this Earth. Observing and revering the change and rhythm of the seasons makes us calmer, happier, and healthier.