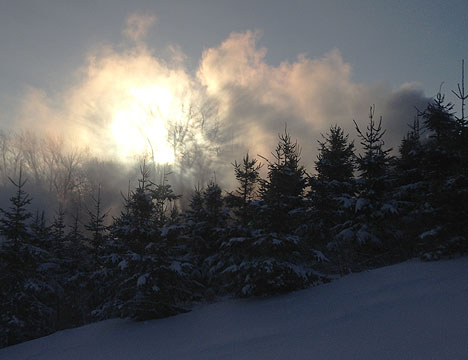 This is what that sumptuous "corduroy" surface many of us enjoy the first few runs of a ski day looks like before it settles to the snowpack, and is carefully plowed and tilled by the groomers in their tractors.
Recent temperatures have sunk to -14F with enough wind for the weather station at Ski Patrol base on the top of Elk Mountain to register wind chill values colder than -30F. When Nick and his crew stop in to base to check temperatures and humidity before continuing outside to keep the the snow guns running efficiently, their Carhartts are sometimes frozen solid, depending upon how close to the guns they've had to work. Yet, one never sees Nick without a big smile; "Did you ski the Tunkhannock this morning? I set the guns so they dusted it just right last night." Those of us who are hardy enough to brave the cold, often head to the Tunkhannock trail first thing in the morning to enjoy Nick and the crew's handicraft.
Despite the almost unbearable conditions, the snowmaking crew take great pride in their work, and, in coordination with the grooming tractor drivers, consistently deliver some of the best man-made conditions on the east coast, or anywhere else for that matter.
Though these cold snaps can be strenuous to endure, they do provide just the right conditions for making very high quality snow, or what skiers call "White Smoke".
Though the recent storm left more snow in Philly than here, Elk continues to have outstanding conditions. Mother nature may help contribute to the Winter Wonderland this weekend with a couple of more inches. The Ski King often notes that even just an inch or two of natural snow tilled in with the existing man-made snow "met-a-morph-a-sizes" the surface into something truly delightful.
Let's all fill our bellies, bundle up, get outside and enjoy the beautiful winter conditions this weekend!
This Wanderlist was handcrafted at 1620 feet.