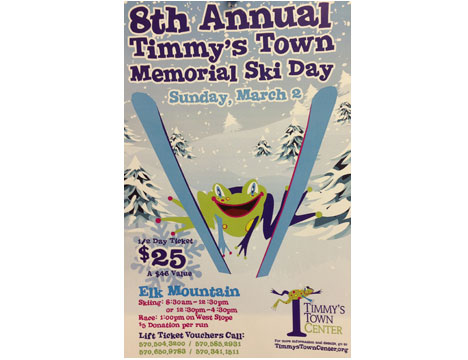 As with any community, people are born, marry, mate, and die. The Elk Mountain community is no different, except that a lot of skiing gets done between those milestones of life.
Some of us have been going up and down that hill for half a century. Others have been called from this existence much later; some much sooner.
It is incumbent upon those of us still making the trip up and down the hill to remember and honor those friends and family members who are no longer able to share this joyous routine.
This Sunday, make some runs down the race course on the West Slope – Ted Ligety is not the only champion to ski Elk – there's a bit of champion in all of us!
Come on out, support a great cause, and honor those of us who have gone before us.
Elk Mountain Memorial Race Benefiting Timmy'y Town Center. Sunday 3/2/14 at Elk Mountain.
1/2 day lift tickets good either 8:30 – 12:30 or 12:30 – 4:30 $25 each.
Race at 1:00 PM on the West Slope. $5 per run.
All proceeds benefit Timmy's Town Center an interactive children's museum in Scranton Pa, founded in memory of a little boy who died from cancer.
For tickets call 570-504-3200 or 570-585-2931 or 570-341-1511.