by Karen Bernhardt Toolan   for
the Clifford Township Historical Society
CLIFFORD TOWNSHIP PA —    Born during the planning of the Township's bicentennial celebration just a short decade ago, the Clifford Township Historical Society (CTHS) has tirelessly endeavored to collect, document, and preserve more than 200 years of local history.  Documentation and countless memorabilia relating to the early settlement of Clifford and the surrounding areas has continuously flowed into the Society to help build a flourishing local museum that educates, informs, and entertains visitors throughout the year.  The group has also renovated the Hoover School (circa 1861-1942), while also collecting, restoring, and preserving artifacts, photos and paintings that help share family stories and endless tales that would otherwise go unknown.  Currently, the CTHS is in the throes of also renovating the old Yarns Cider Mill, with definitive plans to have the original equipment pressing cider once again.
Since its fledgling inception in 2005, many of the initial mission-stated intentions of this non-profit organization have literally become dreams fulfilled.  How has this happened?  "Clifford Township is known for the wonderful volunteer spirit it has," said Sandy Wilmot, CTHS President.  "We wanted to collect, document, and preserve our precious history.  Our goal of fostering in our residents an appreciation of this area's rich history through community programs, exhibits, and events has fulfilled the interests of those who live here and those who regularly come to visit.  This past year especially has been very productive for our group.  Without the generous monetary and in-kind donations — along with some of the grants we've been fortunate to receive — it's doubtful that much of our success would have been achieved."
Early in 2014, the Township's Community Center, which houses the Museum of Local History, benefitted from a 50 percent donation of butternut boards from Ordie Price's Sawmill to add wainscoting to the site.  "Produced in the early '60s, the boards needed planning, edging, sanding, and staining," Wilmot explained.  "Twenty-six stalwart volunteers helped with all this work, and the results are very impressive."
Last Spring, CTHS added an authentic reproduction of Lott's Blacksmith Shop to the museum, where, again, donations brought this to fruit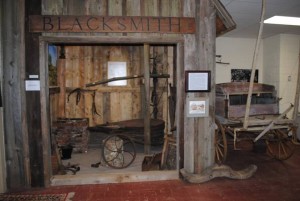 ion.  The shared contracting skills of Jerry Lewandowski are especially evident on this project.  "James and Janet Corey donated all the vintage wooden board and beams for the shop," said Wilmot.  "The interior items came from folks throughout the township who scoured their barns, basements, and attics for vintage items.  The original bellows were from Lott's Blacksmith Shop, which operated near Clifford corners in the 1880s.  They were generously donated by Walter Spedding who'd stored them for decades in his garage in Connecticut.
"The museum's exhibit of our treasured Elk Mountain fire tower map has been complimented by a colorfully realistic mural painted by Michelle Jaconia McLain.  It depicts the westerly view that would have been seen by the wardens stationed in the fire tower atop Elk Mountain during the fall fire season.  We're also in the process of adding a verbal narrative to the museum's canoe display and an exhibit portraying the typical family farm at the end of the nineteenth century."
Renovation of the Yarns Cider Mill at the Suraci Farm continued through last Fall.  "This is our biggest and most laborious project to date," Wilmot ex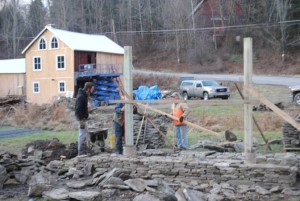 plained.  "It was initiated with grateful thanks to Gloria Suraci Bilotta who signed a 100-year lease with the Society for just a dollar a year."  During recent months, Wilmot explained that the building's exterior has been totally reconstructed with a new steel roof and new hemlock doors and siding, to which batten and red paint will be added this year.  "The original windows were patiently restored by volunteer Hank Wildenberg," she added, "and he has done an amazing job.  The mill parking area is nearly complete, too, with handsome fieldstone work and signage.  Renovation work on the original equipment inside the mill will continue this year, with our goal of pressing cider once again.  Everyone is really excited at the prospect of seeing more of our local history literally come alive."
Also this year, the CTHS has been invited to establish an agricultural museum in the large building at the Clifford Volunteer Firemen's Picnic Grounds.  "This will be another long-term project," said Wilmot, "but this year we'll see many farm items on display.  Toward this end, we're looking for any old farm items – from machinery to hand tools and pictures – that can be added to our collections to further enhance the agricultural museum."
The CTHS invites anyone with items and information of local and/or regional area historical significance that could be lent or donated to the museums to contact them at 570-679-2723 or on their newly designed website, www:cliffordtownshiphistorical.org.   Known locally as "the little society that does big things," Wilmot added that "our group's residents and the volunteers themselves are the backbone of our rural Society.  We're grateful to all of them for their time, talents, and donations.  Without each one, we wouldn't be able to preserve our history."