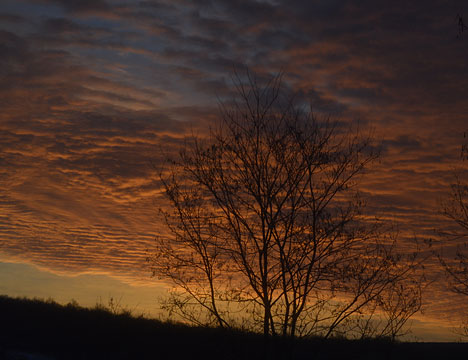 This week, the eastern sky reflected the sunset, highlighting waves of clouds on the horizon.
The snowpack in the backyard is well over 2 feet deep; the recent messy mix of weather, if anything, added to it's depth.
Temperatures are back in the teens and forecasted to remain so.
Despite her best efforts, the snow is simply too deep for doggie to accompany me on all but the shortest skis. She is willing but simply lacks the ground clearance for trekking comfortably in bottomless snow.
Downhill skiing conditions are spectacular. Day after day of groomed corduroy, at times dusted with a couple of inches of fresh snow. Pretty much perfect.
The cross-country trails have been left to rest a few days until after the weather settles down.
Unless one is inclined to break trail through knee deep snow, The D&H Rail Trail seems to be the best option for adventure. Plenty of coverage for skiing, and the surface packed down by snowmobiles offers the best opportunity for skiing and snow shoeing.
Even for those of us who live for Winter, our thoughts are going towards hopes for a graceful snow pack reduction. Sunny days that will corn up the snow surface, and gently diminish the depth of the snow, followed by sub-freezing nights to halt the melting  is our hope.
Include a few light snowfalls to keep things fresh and festive, and Spring will seem to arrive at just the right time.