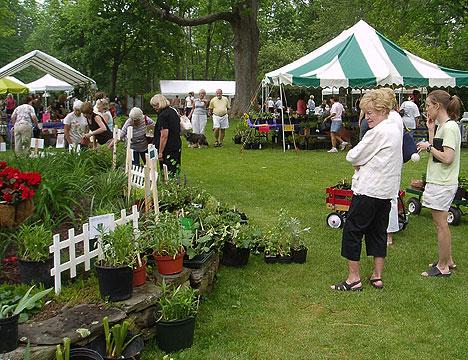 The Mountain View Garden Club will hold its 11th annual Plant Exchange & Marketplace on Sunday, June 7 at the Clifford Twp Fire Company picnic grounds. The plant sale and exchange will be held from 1:00 til 3:00 with locally grown perennials being sold at great prices. You may also bring two potted perennials to exchange for two plants of like size or value. The majority of our plants come from garden club members but if you are cleaning out flower beds or separating perennials and are interested in sharing potted plants for us to sell, they can be brought to the picnic grounds on Friday, June 5 from 9:00 til 2:00. We ask that perennials be potted several weeks in advance. Many local gardens got their start from plants obtained at extremely reasonable prices at our annual plant sale and exchange.
The marketplace will be open from 11:30 til 3:00. Local artisans and businesses will be selling their wares, including photographs, jewelry, mustard, maple syrup, soaps and lotions, garden items, paintings, concrete work, garden equipment, baskets, shrubs, trees and much more. There will be food stands for those who want to grab a bite to eat while roaming around the marketplace. Live music will be provided by Eli Marsh.
For more information, contact JoAnn at 222-3591.