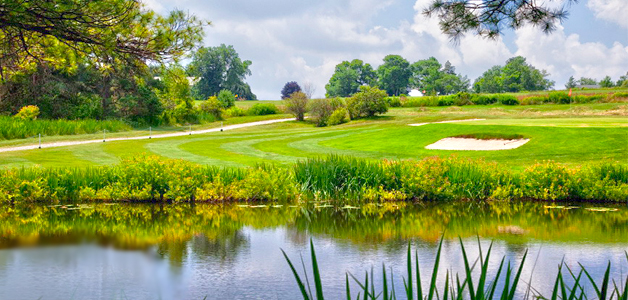 FERN HALL INN'S AWARD-WINNING GOLF COURSE GOES PRO
Pennsylvania's Historic Fern Hall Inn Invests Over $150K in its 9-Hole Golf Course
Clifford, PA (May 7, 2015)—Fern Hall Inn, home to an award-winning nine-hole golf course in Clifford, Pennsylvania, today announced the reopening of its course after a $150,000 makeover. The renovation was in response to a drastic increase in year-over-year traffic and growing prestige among the nation's golf community. The investment has resulted in extensive course enhancements, with an emphasis on enlarging the driving range, refurbishing of the Pro Shop, and adding several dozen new golf carts. More information about the Golf Course at Fern Hall Inn is available at www.FernHallInn.com.
Fern Hall, a member of the Anthracite Golf Association, caters to both local golfers and out-of-state visitors who make the journey to the famous and historic Inn, previously owned by the Johnson Family (of Johnson & Johnson fame). The updates to the golf course include an enhanced driving range, the addition of over 20 new golf carts, new tee boxes, reconstructed bunkers, new hazards, upgraded golf maintenance equipment, and the redesign of the Pro Shop, which is now fully stocked with new golf accessories and snacks. The Inn has additionally almost doubled the size of its parking lot to account for rising visitor numbers and in order to maintain the course's idyllic setting; Fern Hall has invested in extensive tree work on the course and driving range.
Fern Hall Inn is home to the LPGA Girls Golf program of Clifford, PA. and runs a golf camp for those trying to improve their golf game. It additionally hosts a junior golf league taught by Golf Pro Art McLain, a professional golfer with more than twenty years experience. Although a public course, the Fern Hall Inn aims to provide golfers a private club experience.
"We want to create a high-end country club atmosphere for public pricing," says Joe Agnello, Superintendent & Director of Golf Operations at Fern Hall Inn, who was instrumental in Fern Hall's recent makeover. "To us, that means a flawless course, scenic surroundings, and a friendly and helpful staff that makes our guests feel special. "
In honor of its reopening, Fern Hall Inn will be offering a Golf & Bar menu to all golfers beginning May 5th. The golf course is open 7 days a week and offers golf membership packages for regular visitors. Please call 570-222-3676 to purchase a golf membership.
About Fern Hall Inn
Fern Hall Inn (www.FernHallInn.com) is a quaint and historically significant bed & breakfast on the shore of Crystal Lake, in Clifford, Pennsylvania. It sits on land that was originally granted to the first treasurer of the United States, Samuel Meredith, and then purchased by the Johnson family (of Johnson & Johnson fame). Today the property serves as an 11-room inn (each of which has original furnishings), a 9-hole golf course, a restaurant with indoor and fresh-air dining, a handsome, traditional bar area, access to Crystal Lake for water sports and Elk Mountain for skiing and snow sports.