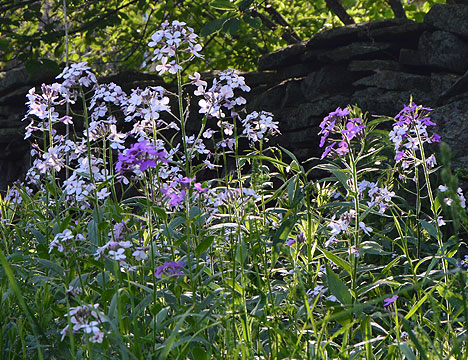 The Dames Rockets above echo the white apple and purple lilac blossoms that became prominent and faded a week or so ago.
The Honey Locust trees remain in full bloom. Walking in the yard under these trees when the wind is calm awakens one to the constant, low, soft buzzing sound of bees enjoying the blossoms.
The Mountain View Garden Club will hold its 11th annual Plant Exchange & Marketplace on Sunday, June 7 at the Clifford Twp Fire Company picnic grounds.  Why not stop by and enjoy the sight and color of more civilized, though no less beautiful, plants and blossoms.
NOTE:
Thanks to Judith Marsh for this edit:
Hi Steve, I have to tell you that the flowers are not Phlox. They are "Dames Rockets", great name, huh. Phlox don't come till later in the season, late summer. The Phlox have 5 petals while the "Dames have 4. They are easily confusing because they are so much alike.