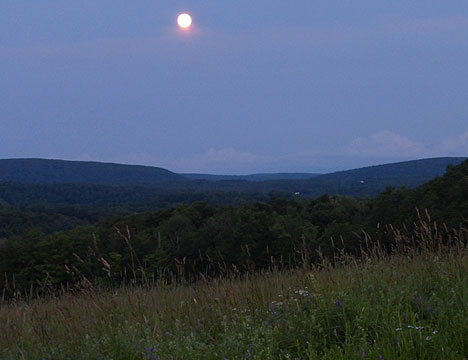 Earthsky.org reports:
"The first full moon of July falls on July 2 at 2:20 Universal Time (July 1 at 10:20 p.m. EDT, 9:20 p.m. CDT, 8:20 p.m. MDT pr 7:20 p.m. PDT). Although the full moon occurs at the same instant worldwide, our clocks read differently according to our local time zones.
The second July full moon will fall on July 31 at 10:43 Universal Time (5:43 a.m. CDT in the central U.S.). This second full moon is the Blue Moon.
July 2015 has two full moons. That's somewhat unusual. Most months only have one. But in cycles of 19 years, or 228 calendar months, seven to eight calendar months will always have two full moons. In other words, there's a month with two full moons every two to three years. When it happens, the second one is popularly called a Blue Moon."
Almanac.com continues:
"July is the month of the Full Buck Moon. Bucks begin to grow new antlers at this time. This full Moon was also known as the Thunder Moon, because thunderstorms are so frequent during this month."