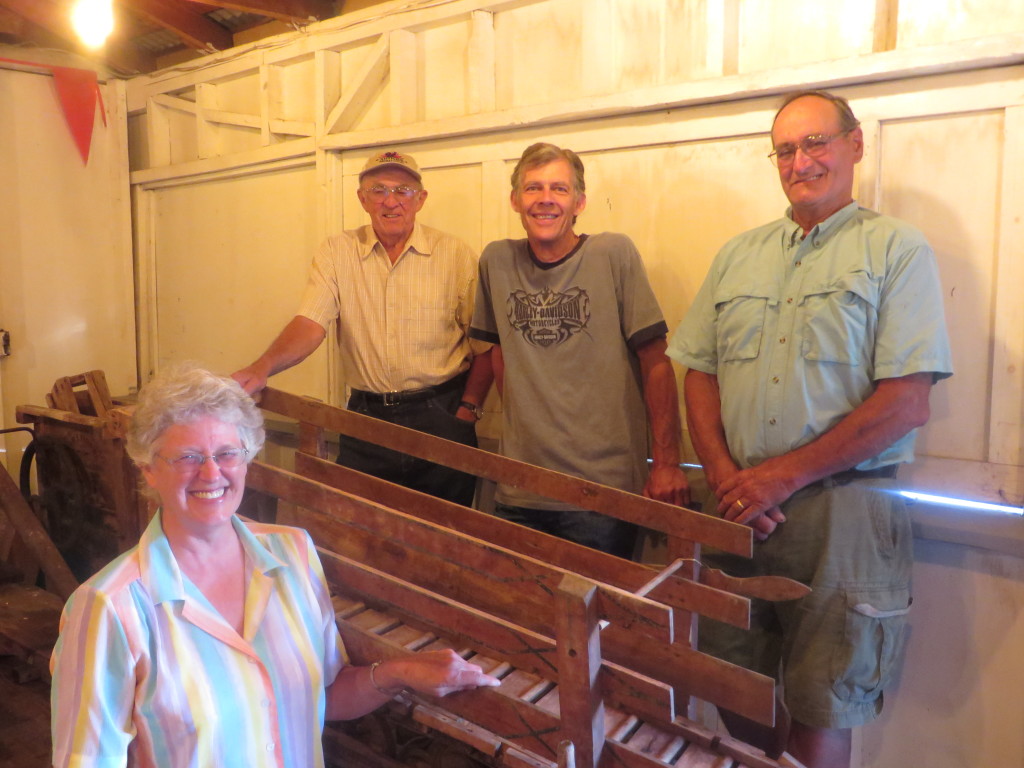 CLIFFORD TOWNSHIP PA – To some people, old farm equipment and machinery often become unusual lawn ornaments. To others, these oddities of times past merely become pieces of unused and dying junk that is left to rust in the rain. But to many of the folks in Clifford Township, old farm machinery has suddenly found a new home and a new use as these wonderful old treasures help recall bits and pieces of the township's rich history.
With grateful thanks to George (Buster) Spedding of Clifford Township, countless items of antique farm equipment will soon have a permanent home in the township's new Agricultural Museum. Spedding is a fourth generation farmer in Clifford Township, and his old farm equipment has seen a great deal of use through the years. But rather than just discard what he no longer uses, Spedding has offered to display some of this equipment to develop a local AG Museum to help teach others about this area's wonderful farming heritage. A number of other farmers throughout the region with old equipment stored in their barns have also offered their unused farm items for display. Not surprisingly, pieces of machinery like this have some great stories to tell, as to how and why and when each was used.
To help share these stories and educate others about the lives of farmers throughout the area, the Clifford Township Historical Society (CTHS) has teamed up with the Clifford Township Volunteer Fire Company to develop a permanent display of some of the township's farm machinery like Spedding's and many of the other long-time farmers. The firemen have given the CTHS the old dance hall building on their picnic grounds to house some of this equipment and develop an AG Museum that folks can visit.
"The historical society has literally outgrown its museum space at the community center," said Alan Fortuner, President of the Clifford Township Fire Company. "Between our two groups, there's a lot of deep-rooted history and pride in what we all do. So helping the Historical Society by giving them some space for their new AG Museum is a win-win for us both. It's also a great way to help continue to maintain the township's local history for future generations."
"We're thrilled to have the space at the picnic grounds," said Sandy Wilmot, President of the CTHS. "But without the support of Adams Cable Service who provided the financial backing to make this project possible, we wouldn't be where are today with this new museum. Additionally, local volunteers Robert Kilmer and Ray Swingle of Clifford Township provided the bulk of the building materials to move forward with this new project.
"The old dance hall was originally built years ago with a spring floor," Wilmot explained. "The floor joists are likened to coiled car springs or an old spring mattress – the floor gives with the weight placed upon it, so some of the larger equipment we'll move into the hall will be easily accommodated. Jerry Lewandowski is one of our many workers, and he has generously agreed to help us with the major reconstruction work to turn the dance hall into our new AG Museum. We've also salvaged old barn walls to rebuild the museum doors and make the hall's interior look more realistic for the displays."
Throughout the years, the life and labors of a farmer have gone from manual to horse-driven to motorized. Generations ago, it might take an entire day to work a mere half-acre by hand or with a single horse. Today, dozens of acres can be worked with the newer mechanized equipment. Back in the old days, many farmers worked their land until they died. And with many large farming families, everyone had their own chores to do, each often requiring a particular piece of equipment. Much of the equipment that will eventually find its way into the AG Museum will be from the '30s and '40s, with some items going back to the early 1900s.
"We'll have some larger items like a single-horse plow and cultivator," continued Wilmot, "and we'll have smaller tools like a dog-tread mill, a bone grinder, a fanning mill, and corn sheller. Before the reapers and binders, farmers used a grain cradle to manually cut and gather their hay. There will be a wide variety of items that were used by multi-generations." To help describe these interesting and unique pieces of antique machinery, the CTHS will prepare permanent storyboards to accommodate each item on display.
"There's not a lot of monetary value in most of this old equipment, and there's minimal decorative value in most pieces too," said Wilmot. "But from an educational standpoint, it's irreplaceable and very valuable. Together with the Clifford Township Fire Company, we're working together to continue to preserve our township's rich history."
On July 23-25, the Clifford Township Volunteer Fire company will host its 67th Annual Fireman's Picnic, located on Rt. 106 in Clifford Township (evening events will begin at 5:00pm). The CTHS will open the doors to the new AG Museum at that time, displaying the first of its continually growing collection.
The CTHS invites anyone with items and information of local and/or regional area historical significance to contact them at 570-679-2723, or on their newly designed website, www:cliffordtownshiphistoricalsociety.org. Known locally as "the little society that does big things," the CTHS directors believe that their group's supporters and volunteers are the backbone of its organization. They are grateful to everyone for their time, talents, and donations. Without each one, the CTHS would not be able to preserve this region's history.
Written by Union Dale freelance feature writer Karen Bernhardt Toolan for the Clifford Township Historical Society, with thanks to the Susquehanna County Room Tax Grant Fund through the Endless Mountains Visitors Bureau.