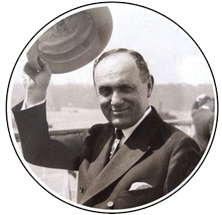 The Pennsylvania Historical and Museum Commission, together with Forest City Borough, and the Forest City Area Historical Society invite you to attend the dedication of an official State Marker commemorating the accomplishments of Samuel L. "Roxy" Rothafel on Thursday, July 30th at 6 PM.
The marker will be unveiled at 600 Main Street, Forest City, the location of the Family Theater, opened in 1908 by Roxy, who went on to open many Roxy Theaters, create the Rockettes, and open Radio City Music Hall in 1932.
The Honorary Exhibit, 'From Forest City to Radio City, a Tribute to Roxy Rothafel' will be on display all day Thursday and Friday at the Historical Society. There will be a showing of the 1987 Forest City 'Follies' and old time movies throughout the day.
A reception at the Historical Society will follow the dedication. For more information on the Old Home Dayz activities, visit our website: www.forestcityareahistoricalsociety.org .