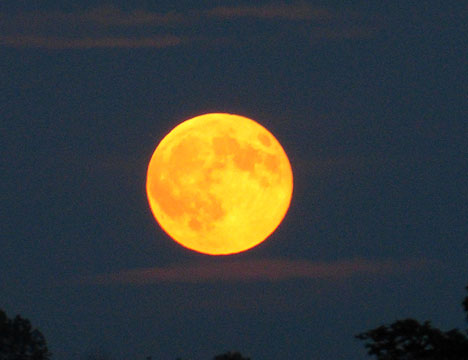 Late last week, the sky was dominated by the first of three "Supermoons" of 2015 so called as they occur when the moon is closest to the earth.
Some posit that extraordinary energies are associated with this, and the next two supermoons of 2015, which will usher in a new era of happiness and unprecedented positive vibrations for the entire human race.
Others believe that the moon is always just wonderful to look at, and worthy of unabashed extended gazing.
If viewing spectacular phenomena provokes feelings of gratitude for such natural beauty in our world, and happens to put you in an extra good mood making it easier to be kind and joyous with  friends, family and others, well that's just fine.
From:
http://earthsky.org/tonight/august-29-supermoon-first-of-three-supermoons
In North America, we often call the August full moon the Sturgeon Moon, Corn Moon or Grain Moon. The August 2015 full moon is also the first of three full-moon supermoons in 2015. Previously, we had three new moon supermoons in January, February and March, 2015. The full moons on August 29, September 28 and October 27 all enjoy the supermoon designation because the centers of these full moons and the center of Earth are less than 361,836 kilometers (224,834 miles) apart. The closest supermoon of the year comes with the September 28 full moon, presenting a moon that's only 356,877 kilometers (221,753 miles) from Earth.