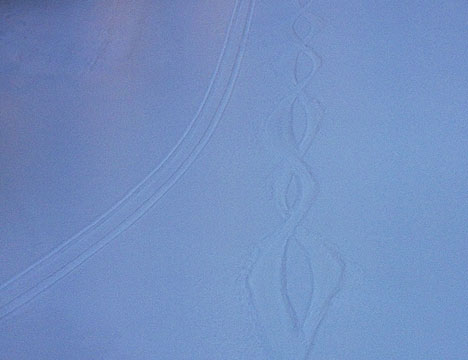 "I am an artist; snow is my canvas!" proclaimed the Ski King recently. Fresh snow overnight provided an opportunity for him to execute his signature "figure elevens" on the slopes of Elk.
Alongside, a snowboarder matched linked turns with a skier resulting  in the more traditional "figure eight" pattern.
The combination of a few inches of natural dry light powder snow, blended into the magnificent "white smoke" Nick and the snow crew have been blasting out of their guns has made the conditions at Elk outstanding.
With a chance of more snow over the long holiday weekend, it's a great time to come to the neighborhood, ski, ride, and enjoy music and a bite to eat at Stone Bridge on Friday and Chet's Place on Saturday.
Yup, it's been quite a wait, but Winter is here!