Hi, Kids! Welcome to the World of Skiing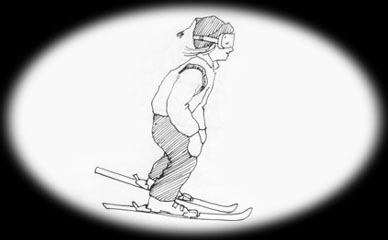 This image is from the cover of "Welcome to the World of Skiing" by Paula S. Roos and Jeri Turner, Illustrated by Katherine Dodge.
Get this book for you and your kids!
($4.00 Available at the Elk Mtn Ski School, or order by email TeamEMA)
At just about 15 pages, it's a great book "… for children to read and color" and will help make their first day on the mountain go more smoothly and be more fun.
Once home, it's a nice souvenir of their introduction to the ski life, and can serve as a checklist for them to prepare for subsequent visits to the mountains.
Those of you that are from around here or spend time in the Elk Mtn Area have probably had your kid's taught by local legends Jeri and Paula. They both are professional educators, and have been in the ski life for over forty years each. Their own kids, and kids that they have taught have become some of the best skiers, instructors, racers, and coaches in the country.