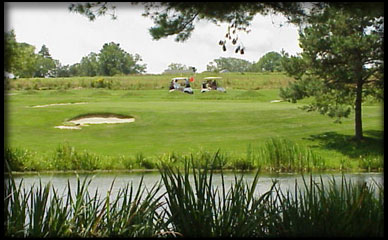 "Number 6 – A short par three but very tricky. Club speed is the key here. Considered the signature hole for Scottish Glen." is the description of Number 6 from The Scottish Glen website.
On August 23, the hole was the site of the "Pot of Gold" challenge element of the Annual Elk Mountain Ski Patrol Golf Outing. Out of the 70+ golfers participating in the event, no one's drive came to rest within the two foot diameter circle around the pin, to win the challenge.
On August 24, the hole was the site of Chet's Place bartender and amateur-golfer-extraordinaire Leon Silfee's first Hole In One!
Golf can be like that…