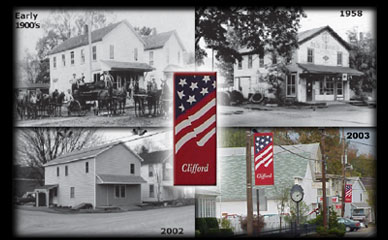 Evidence of The Clifford Township Community Alliance's (CTCA) efforts to "just make things a bit better" can be seen all along Main Street. The Clifford flags are meant to make visitors feel more welcome, and residents feel more pride.
The groups' activities are not just for show. The township cleanup program they organized this spring helped Clifford Township residents dispose of old autos, tires, refrigerators, and other hard to get rid of items in an economical and environmentally friendly way.
Read more about the group, how you can help, and learn interesting facts about Clifford by downloading the October Newsletter.
To download the Newsletter, Choose Community from the drop down menu above, or click here.
Know of a college student, or a service person who is living out of the area?
Send them a link to www.elkmtnarea.com. They are sure to enjoy news from home!