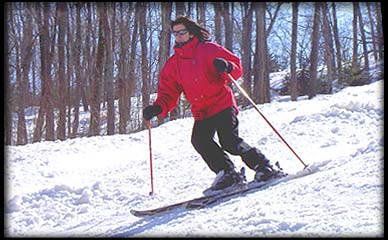 March's entrance was unmistakably Leonine, adding considerably to this year's already substantial snow pack.
Bright sun, and moderate temperatures collaborated to turn the surface of the seemingly bottomless base at Elk Mountain into Corn Snow – a late season delicacy resulting from just the right combination of snow, sun, and temperatures.
The skier shown above, known to some locals and most moguls as "The Eva Destruction" blasts the bumps as she expertly negotiates one of Elk's mogul fields under a perfect blue sky.