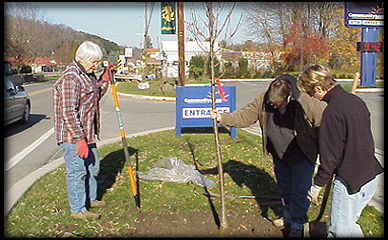 Recently, volunteers from The Mountain View Garden Club, The Clifford Township Community Alliance, and The Clifford Bicentennial Committee collaborated to plant trees throughout Clifford.
The Clifford Township Supervisors along with representatives of the Urban and Community Forestry Program provided expertise and logistical support in the installation of 33 trees throughout the village.
The trees were made available through a grant, facilitated by Congressman Don Sherwood, to Clifford Township from the North East Pennsylvania Urban and Community Forestry Program.
Another instance of government and folks from different groups getting together to help make Clifford "a little bit nicer".
Keep in touch with these organizations by visiting their websites. You might find that you too would enjoy lending a hand!
mountainviewgardenclub.org
cliffordpa.com
nepaforestry.org