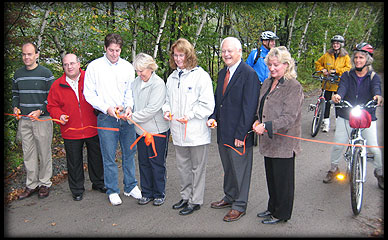 On Saturday, September 23, 2006, the Rail-Trail Council held a ribbon cutting on the D&H Trail at the Forest City trailhead.
Lynn Conrad, Rail-Trail Project Manager, welcomed everyone and, referring to the recently renovated 10 mile stretch of trail, said "This is just a peek at what a real Rail-Trail will look like. We are still not there yet, but we are on our way."
Pictured cutting the ribbon are:
Forest City Councilman, Forest City Mayor Nicholas Cost, State Representative Jim Wansacz, Rail-Trail Project Manager Lynn Conrad, State Representative Sandra J. Major, Congressman Don Sherwood, and Susquehanna County Commissioner Roberta Kelly.