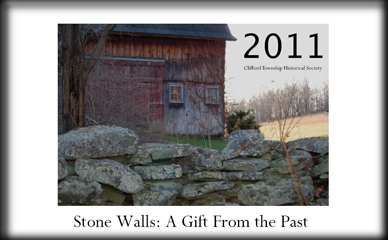 The Clifford Township Historical Society 2011 Calendar is now available and it's the perfect holiday gift or stocking stuffer!
Stone Walls: A Gift From the Past, is a full color calendar and may be purchased at Clifford Supply, Endless Mountain Pharmacy, Dundaff Country Store, and The Forest City News. Or through Pat Peltz via Tel. 570.679.2870 or email: peltz@nep.net. Price: $10 each, plus shipping if applicable.
Sadly, grant funding has all but disappeared. By purchasing calendars you can help support the historical society's next project of displaying historic artifacts in the Township's Municipal Building.
www.cliffordpa.com
For more information about the Historical Society,
please visit: www.cliffordpa.com or
contact Sandy Wilmot by phone 570.679.2723 or email: mswilmot@nep.net.