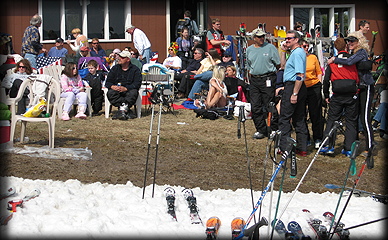 Geese have been prominent for many days. Except on the highest hills and a few stubborn patches in the yard, the snowpack is gone.
The sun is so warm it's drying the melted snow out of the ground. The song the birds sing in the morning say that it's spring already.
Nothing takes the sting out of the realization that another ski season is drawing to a close than the Spring Carnival at Elk Mountain. Though snowpack on the mountain is still feet deep, and skiing continues to be extraordinary, the geese, the birds, and the sun urge us to let go of winter and welcome spring.
Before we dust off the bikes and boats, come celebrate and share stories of how fantastic this season was, summer plans, and how great next season is sure to be!
See you there!