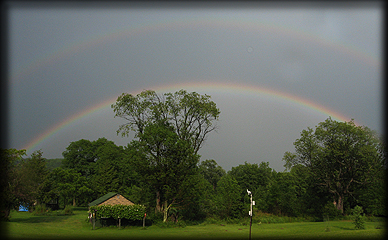 Days on end of wet makes strangers
of the sun, moon, and stars;
Causes the grass in the yard to grow
deeper than dog snow.
A glimpse of moon through breaks of clouds
soothed last nights' troubled sleep.
A pileated woodpecker brightly punctuated
early morning's milky sky.
Abundances of lilac and apple blossoms
contrast each other against pale clouds.
Early afternoon shadows finally cast
from reluctant breaks in endless clouds.
Fleeting rainbows remind us of promises
that will never be broken.
Rain can't get the best of us
Sun, soon come!