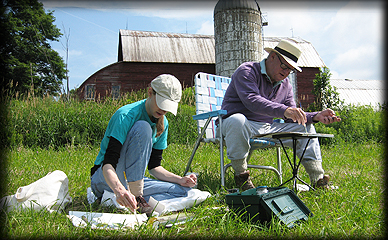 "In Open Air" is where these artists find themselves rendering images of the Elk Mountain North and South Knobs.
A politician once said "I have come to the conclusion that the making of laws is like the making of sausages – the less you know about the process the more you respect the result."
Seeing these artists concentrating on their work, causes us to think that, unlike the making of laws, knowing the process of making art can be desirable, and actually involve one more intimately with the result.
Wander around downtown Carbondale this Friday and Saturday for the Art Walk III, a celebration of local music and art.
If you happen to respect images of particularly beautiful landscapes, keep in mind that they are the fruit of creativity and toil, combined with natural light and fresh air in a bucolic setting.