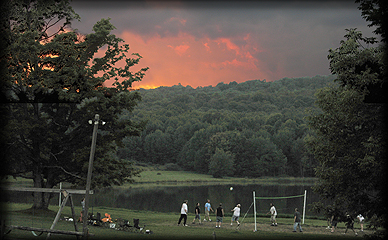 These folks are making the most out of the ending of last evening's "Sailor's Delight" sunset to complete their weekly volleyball game at Chet's Place. Dawn boasted almost the same hue this morning, but rather than "Take Warning" the weatherman urged us to enjoy highs in the 80's, lows around 60, with hardly a chance of rain for days.
Some summers head toward retirement like this – beautiful warm August weather seemingly for days on end. On such perfectly sultry nights, under a star filled sky, one can find oneself pondering their place and purpose in such a vast universe to the point that their thinker get's sore!
The antidote to such deep strenuous thoughts? As one enjoys these numbered days and nights, anticipate what wonders the change in season will bring, and, whether alone or amongst others, allow a soft smile to dress your face.
Attired so, you may feel that despite all the distractions of daily life trying to convince you otherwise, you're just exactly where you should be in this great vastness we all share – without giving it a second thought.