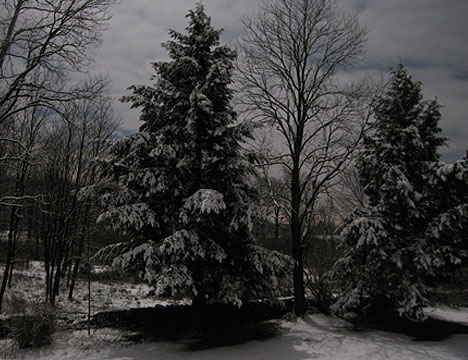 A little less than a month from Christmas, awakening a couple of hours after retiring for the night, a glance out the window revealed that "The moon on the breast of the new fallen snow, Gave the lustre of mid-day to objects below;".
The November full moon, known as The Beaver Full Moon, cast shadows so distinct, indeed, it almost did seem like mid-day.
Take a break from the frenetic pace of shopping and bustling around, and visit the holiday events below. Whether you actually live here on The Hill, or even more, if this is your second home, or particularly if you only visit, treat yourself with a trip to the First Annual Winter Fest in Forest City.
Forest City offers some of the warmest hospitality of any town you'll ever visit to residents and visitors alike. For those of us old enough to remember, its' quaintness is reminiscent of Cicely Alaska, the town featured in the TV show "Northern Exposure". See if you don't feel like walking the streets of Forest City this Saturday, and wishing old friends and new "Bon Hiver!"