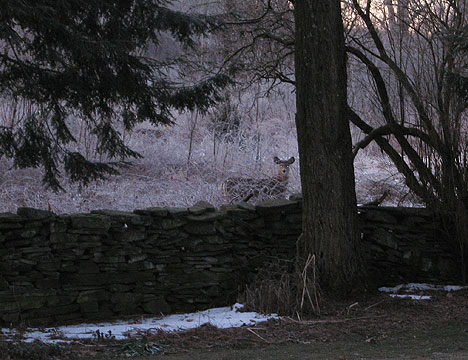 Last night, rain took away the natural snowpack. Cold came back this morning after dawn; strong wind, sun, clouds, sleet and flurries now. This young girl got to sleep in Spring like temperatures last night, and doesn't mind the thaw at all – she is enjoying foraging what was left behind by last autumn, without having to paw through deep snow.
Though we'll need a good snowfall to resume cross-country skiing and snowshoeing, skiing at Elk should be excellent for the weekend and beyond – perfect snow making conditions now, and for at least the next week.
Kilgore Memorial Race, Wilburger Memorial Race, and Women's Ski Days will be held at Elk Mountain. Music this weekend all over the valley – Hitchin' Cricket and Six East Band at Chet's Place, Blue London at Stone Bridge. For those venturing off The Hill – tomorrow is First Friday Scranton, and Classical Guitarist Gohar Vardanyan is in concert at The University of Scranton.