CHILDREN'S GARDEN WORK PARTY PLANNED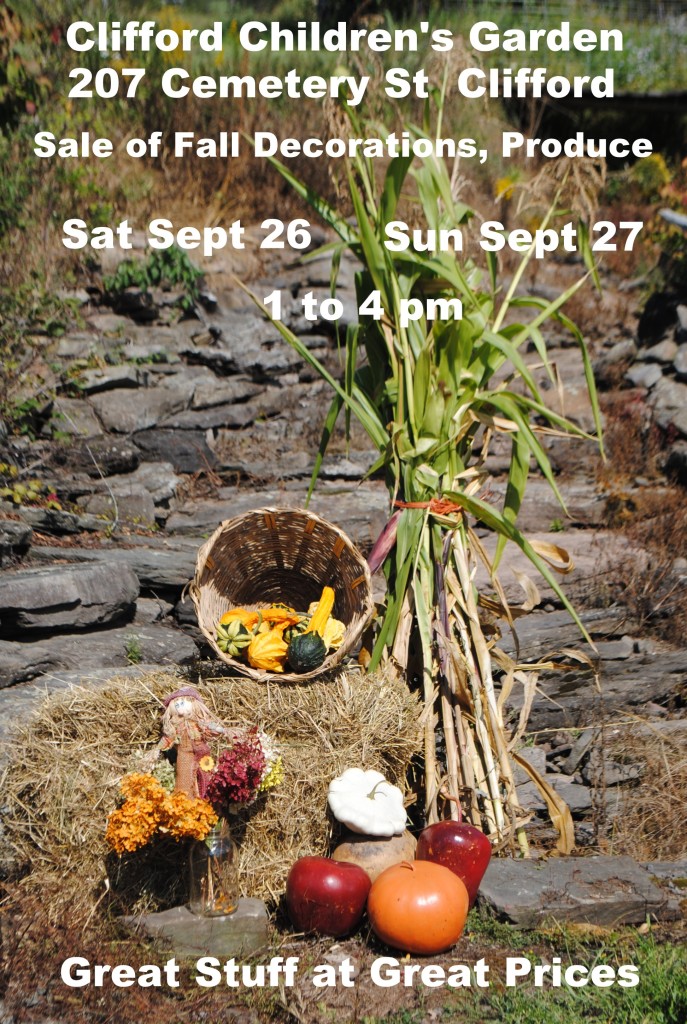 CHILDREN'S GARDEN WORK PARTY PLANNED
CLIFFORD TOWNSHIP PA – Since early this summer, youth and adults have worked tirelessly to develop a very special place in Clifford Township: A Children's Garden. Sponsored by the Clifford Township Historical Society (CTHS), a work weekend has been planned for September 26-27th, 1:00-4:00pm to continue these efforts.
Rain or shine, friends and family will be gathering to help put some of the finishing touches on the garden. Volunteers of all ages are welcomed. Bring a paint brush (with your name on it), and there will be something special for you to do.
We will be painting the white pickets for the fence, spreading mulch on the paths, building the flagstone maze, taking the bark off the logs for the log cabin — and starting to build the cabin, designing the music mountain, putting up the four doors of history, raking and seeding the dirt on top of the mine shaft, putting dirt and coal into the mine shaft, starting to set up the play area, installing butterfly houses, making the dinosaur nest out of grapevines, planting grape vines and willow shoots, installing the big blackboard.
With so much to do in one weekend, we can use all the help we can get. So please come along and feel free to invite friends and neighbors to share our fun. Kids aged 2 and up are especially invited to help create their special place … there will be jobs for all ages.
We will also be selling fall decorations – small hay bales, lots of gourds, some pumpkins, corn stalks, and garden-fresh vegetables.
There — that should keep everyone busy! In one weekend, the Children's Garden should really come alive. But YOUR help is needed. Contact Sandy Wilmot at 679-2723 or swilmot@echoes.net; or Shirley Granger at shirleyg@nep.net with any questions.
Children's Garden  address:
207 cemetery street Clifford Twp pa 18470
Let the fun begin! And THANK YOU to everyone who shares our fun
– Sandy Wilmot, President Clifford Township Historical Society