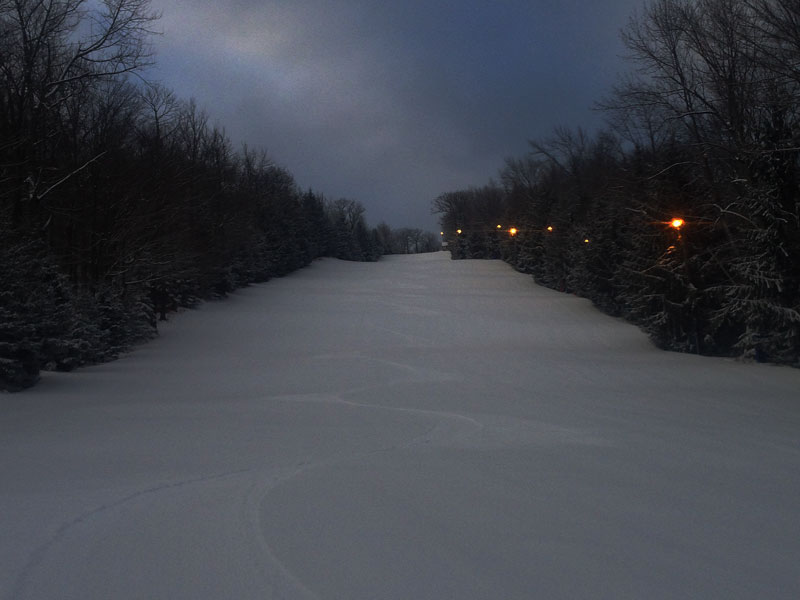 Generally speaking, It's been an unseasonably warm winter, with unusually little snowfall. Even so, the crew at Elk's hard work has kept the conditions better than you'd imagine. As other eastern resorts from the Mid-Atlantic up into New England have closed due to lack of snow, skiing at Elk this season has been excellent.
A few inches of dry dusty snow accumulated in the neighborhood this week, whitening the scenery, making it look and feel more like a proper winter.
Still a couple inches short of dog snow, more is forecasted for tonite. My canine roommate and I remain hopeful enough will fall for a ski outing on the trails we've been tending and hiking in boots since last autumn.
The first run down the Slalom trail on Elk the morning after the snowfall just as dawn broke, floating down through these few inches of snow,  made me forget.
Made me forget to think about turning. I observed as the skis, my self, the snow, and gravity, seemingly operating outside my consciousness, conspired and flowed down the mountain, etching the karma of their collaboration onto the surface of the snow.
The next run, and the next, and the next made me forget that it is cold out. Made me forget that the winter has been warm. Made me forget to take a bathroom break. Made me forget the  weight loaded into my thighs by countless turns. Made me forget that I'm more than middle-aged.
The ground hog forecasted that spring is right around the corner. He's been wrong before.
Even though late winter may get better than imagined, right now is the best this winter has offered: good wintry weather, music all over The Hill Friday and Saturday, lodging and dining specials for romantical Valentine's Day Sunday, and President's Day on Monday.
Yup, it might get even better, but seems most prudent to get out on The Hill this holiday weekend, and enjoy!