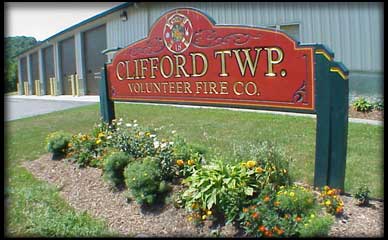 It´s Clifford Picnic Time!!! The 57th Annual Firemen´s Picnic, sponsored by the Clifford Township Volunteer Fire Company, will run from Wednesday, July 27 through Saturday, July 30.
Features and fun include refreshments, clams, desserts, games, kiddie rides, carnival concessions, music and excitement every night!
Visit the Firemen´s web site at www.cliffordfire.com for a Picnic schedule.
The Mountain View Garden Club planted the Fire Hall garden beds in the early spring with hostas, bleeding heart, Shasta daisy, rudbeckia, coreopsis, Stella Dora day-lilies, primroses and other perennials. All the plants were donated by garden club members.
The mission of the Mountain View Garden Club is to share our knowledge and love of gardening while beautifying the Elk Mountain area and surrounding communities.