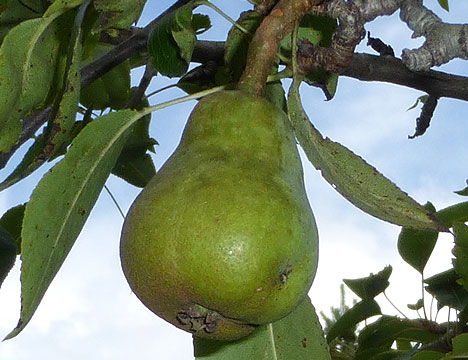 Despite having lost it's mate several years ago, this pear tree is bearing fruit this year. This pear will cling to it's branch and continue to grow until the first frost of Autumn, at least a couple of months away.
Of more immediate interest is the abundance of raspberries and blueberries that are now, or mere days away from being ready for harvest.
The Clifford Fireman's Picnic starts tonight, and continues on Friday and Saturday nights with food, music, fireworks and friends. Forest City's week long 150th Anniversary Celebration begins Saturday with Christmas in July Sidewalk Sales, Flea Market & Farmer's
Market on Main Street, and continues with events and programs of interest for townspeople and visitors alike.
It comes to mind now, how last Spring never seemed to want to arrive, leaving us dwelling in a landscape of seemingly endless cold,
dark, and gray. Today, a near perfect Pennsylvania Summer day urges us to make the most of the days and weeks ahead. Whether you're on the Clifford or the Forest City side of The Hill, or as some of us do, visit both regularly, this is the time to enjoy the bounty
of life.
Fruits and vegetables are ripening – fresh tastes that just aren't available in the Winter. Folks are out and about, wandering along the streets of the town, or ambling about the picnic grounds, all with a festive demeanor, seeking out old friends and new looking to share stories that begin with "I remember when…", as well as "How was your day today?".
Yup, this is it; the peak of the Summer. Stock up now on good food, delicious tastes, and exuberant camaraderie. The days have already
begun to shorten…