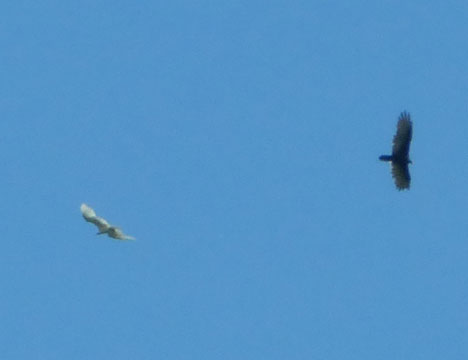 While driving from Clifford toward Elkdale in the valley through which the east branch of the Tunkhannock Creek flows, I noticed a kettle of turkey buzzards riding a thermal to who knows where.
I did a double take, noticing that one of the birds was nearly completely white. It's not uncommon to see more than one type of bird riding together on thermals, and figured a hawk of some kind had gotten into the mix.
But, after watching for a while, it was apparent that the white bird was a Turkey Buzzard. It's flight pattern, with slightly twitching wings was the same as everyone else. Both the top and bottom of the wings were white, as was the entire body. The underside of the wings retained the silver feather pattern as typical buzzards,
Yup, that's not something you see everyday.
That view was just slightly less impressive than the Blue Heron that was standing in the middle of the road a couple of miles later. That fellow, however, took off to the meadow before I could get a clear picture.
I wish I got a photo of this fellow standing in the middle of the road in all his lanky splendor – it looked like he stood more than 4 feet tall!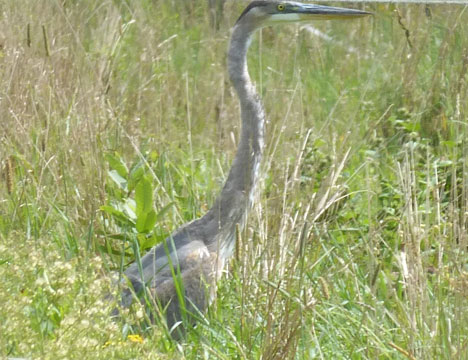 Neighbors Laurie Graham and Larry Wilson sent these photos of the white Turkey Buzzard: