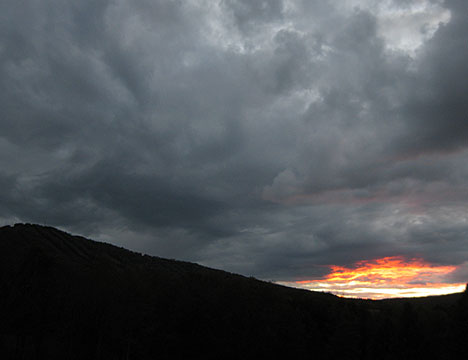 Seems odd that some of the most beautiful times here on The Hill are when there are the fewest people around.
The dust has settled from last weekend's Frontier Days; Elk Mountain Fall Festival is still a couple of weeks away.
There are pockets of extraordinarily colored foliage, mostly in the lowlands, and near the swamp on Lyon Street, but most of the colors of the scenery remain, at least for the time being, unrevealed.
The weather has been nothing short of spectacular – highs in the upper 60's, lows in the mid 40's – and not a drop of rain in the forecast for the next week! Almost makes one want to enjoy the sky view from a tent for just a couple more nights before the cold really sets in.
Wine tastings, art exhibits, benefit dinners, astronomy and trail walk events – plenty of activities to stimulate all of one's senses and sensibilities.
If you're even thinking about visiting – don't hesitate! Certainly you'll find agreeable accommodations to enjoy a favorite time of the year at an even slower, more relaxed pace.