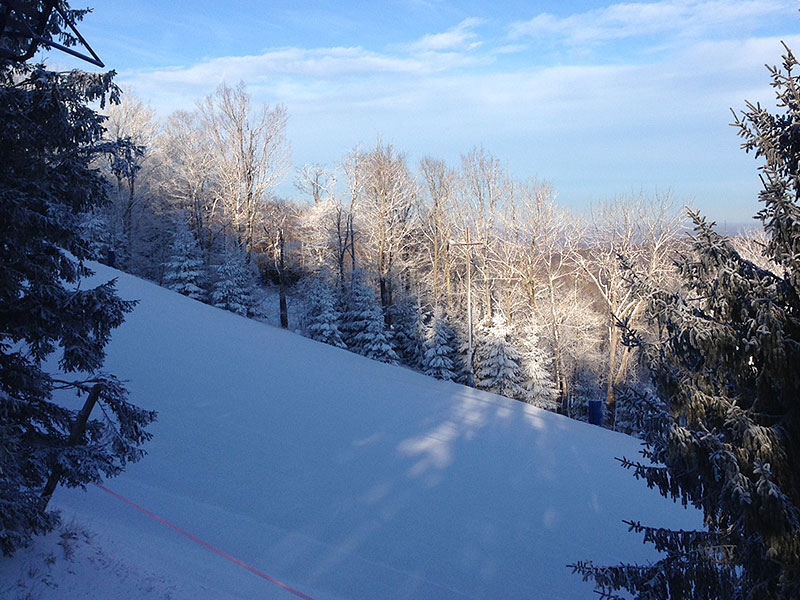 The first chair lift ride of the morning up Elk Mountain is sometimes nothing less than mystical.
Before the throngs of skiers load the lift, chatting about this or that, there is quiet.
The soft rumble as chairlift chairs glide along the only sound. Birds, squirrels, and other beings are used to this sound, and go about their morning business oblivious to the first few humans that ride the chairlift  up the mountain.
The chairlift affords a great perspective of the mountain and it's critters as they awaken for the day. Squirrels scurry this way and that, carrying pine cones in their mouths. Crows call to each other, announcing their presence to each other, and maybe, the location of a tasty tidbit for them and their friends to share.
Deer can sometimes be seen traversing the slopes on their way to find breakfast.
Sky casts horizontal light, sometimes pale dawn pink, sometimes gold, across the slopes as sun breaches the horizon described by neighboring Catskills.
Along with the critters, one can sense that the mountain itself awakens.
Elk Mountain is a place where many people, enjoy that wonderful combination of gravity, winter, and physical exertion.
Quiet times on the mountains can provoke a more reflective demeanor. For some of the Native American tribes for whom the ski trails have been named, and for some of us who continue to cherish it's residents, woods and slopes each morning, Elk is a sacred place.