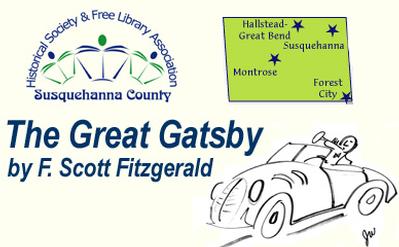 Susquehanna County Historical Society & Free Library Association invites everyone to read The Great Gatsby by F. Scott Fitzgerald and enjoy dozens of special events from September 8th to November 8th.
For a nominal fee of $2, you'll receive your "Ticket to Ride with Gatsby", including a wristband for admission to all the events, a schedule, a reading guide, and a free copy of the book.
Events including book discussions, dance lessons, big screen movies and exhibits are being held all around the county.
To find something nearby, visit: www.susqcolibrary.org