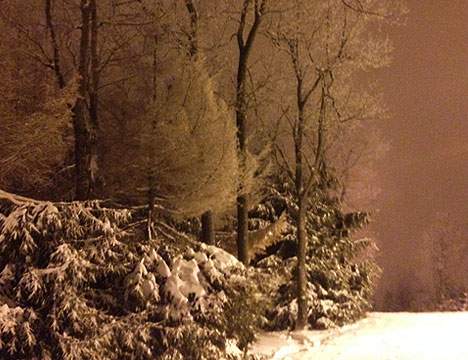 The very top of the Slalom trail, shown here at night, is docile and nearly flat. Beautiful in the evening light; one can sometimes see deer and fox tracks weaving in and out of conifers and hardwoods that line the trail.
Once over the top of the headwall the character of this slope changes dramatically; the Slalom opens to a wide expanse dropping several hundred feet at a steep, consistent pitch making it one of the best slalom ski racing trails on the East coast.
Many, many years ago, half of the Slalom was left as a glade – just enough trees were removed so one could turn, or "slalom" around the remaining hardwoods adding considerably to the challenge already posed by the trail's breathtaking incline.
Over the years, the trees were removed, and the fall line adjusted to provide the wonderfully consistent pitch enjoyed today.
"Uhh… I dunno 60, maybe 65." Replied a coach when asked by a young racer to estimate how fast he was going as he passed by. The trail has always been steep enough to allow considerable velocity – care must always be taken regardless of one's ability level.
Inappropriate for beginner skiers, the Slalom trail has been skied by some of the best skiers in the country; young racers who learned to race on this hill have gone on to ski for and coach the US Ski Team, and to successful pro ski racing careers.
Eight years ago, just after the Torino Olympics, members of the US Ski Team, including current Olympians Hannah Kearney who captured a bronze medal in Freestyle Skiing Ladies Moguls earlier this week in Sochi, and Ted Ligety, pictured below, who won a gold medal in Torino, raced on the Slalom Trail along with junior racers from all over.
When not racing, the Olympians skied with aspiring local racers, giving them ski and racing tips, as well as the thrill of a lifetime: skiing with the best skiers in the world on their home mountain.
The Elk Mountain Slalom Trail has hosted thrill seekers and racers of all levels – from hearty souls navigating ungroomed snow between immoveable tree trunks on 210 centimeter skis with bear trap bindings, to first time junior racers, to Olympic gold medallists.
This Wanderlist was handcrafted at 2660 feet, from where Pro2 sends warm regards to all his friends and colleagues.