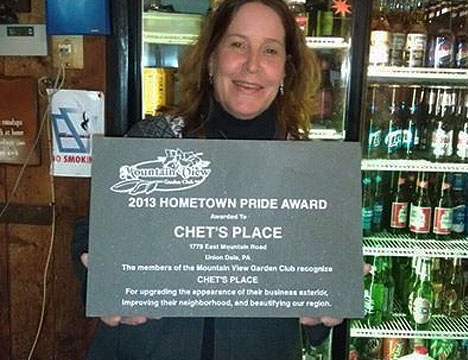 Congratulations to Jean Shinn and Mark Silfee of Chet's Place on the recent "Hometown Pride Award" presented by the Mountain View Garden Club.
If you've never seen Jean's handiwork at it's best, plan now to come and visit Chet's Place in late June or early July, when the Summer is at it's height. The flowers around Chet's Place bar, the lodge, and Jean and Mark's home are absolutely spectacular! One wonders how Jean get's all this done, cooks for Chet's Place patrons, and still has time to keep the Chet's Place softball field in perfect condition!
Since forming in 2005, the Mountain View Garden Club members have been busy fulfilling its mission to share their knowledge and love of gardening while beautifying the Elk Mountain area and surrounding communities.
Previous "Hometown Pride Award" recipients include:
Portable Playhouse in Forest City,  Clifford Historical Society,  Idlewild Ski Shop, St. Pius X Church in Royal, The Shifler-Parise Funeral Home.
The Mountain View Garden Club accepts nominations recognizing businesses or organizations for upgrading the appearance of their business establishment's exterior, improving the appearance of their neighborhoods, and beautifying the region. Also eligible for the award are organizations hosting projects/festivals that enhance the area's quality of life.
While winter's chilly temperatures and continuous snowfalls still have a grip on the mountain and area communities, you may not be thinking about gardening and outdoor projects! Actually it's the perfect time to browse seed catalogues, leaf through gardening books and draft a spring planting plan. The payoff can be huge –beautiful blossoms, delightful scents, a peaceful and serene spot to enjoy the morning dew or evening sunset. You too, can beautify the community!