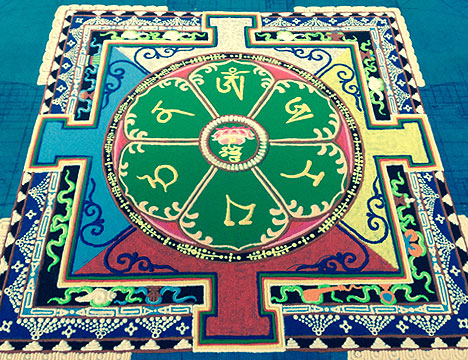 Some things fall into the category of "…you don't see that everyday…".
A mandala, a beautiful, sacred piece of art, as detailed as any oil painting, created using only colored sand is one of those things.
Tibetan monks clad in robes of saffron, patiently create mandalas using simple tools; their command of the tools and medium so evolved, they place a grain of sand at a time to create the finest details of the work.
Depending upon the pattern, it takes several monks several hours, sometimes several days to complete the painstaking work. Monks must experience many years of specific training and spiritual study before they may work on a mandala, which to them is more an exercise of faith than artistry.
What becomes of the mandala when completed? To emphasise the concept of the impermanance of this life, the mandala is blessed, then disassembled using both a sacred ritual item, and a common dry paint brush. In a matter of moments, what took many monks many hours, or days to complete is swept into a pile of sand which is then distributed to offer blessings throughout the world.
The work shown above was created this week by monks visiting the University of Scranton as part of the "Sacred Arts of Tibet Tour" which continues through this weekend at Wellspring House in Tunkhannock, and the Indraloka Animal Sanctuary in Mehoopany.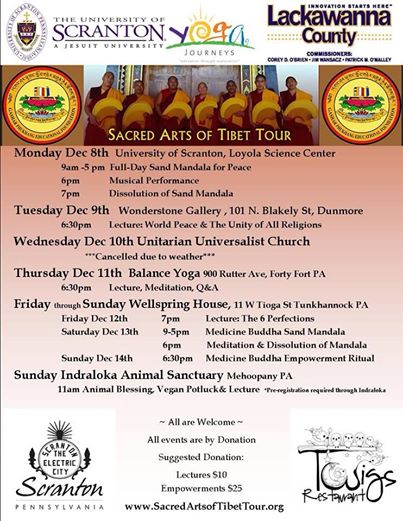 The monks, forced from their native Tibet, are scheduled to offer a lecture Friday, Dec 12th, and create another mandala on Saturday, December 13th at the Wellspring House. Sunday, the monks will be at the Indraloka Animal Sanctuary to bless the animals.
Their visit is to share Tibetan culture, and to raise money to build housing for the next generation of young monks in their home in exile, southern India. At each venue, they offer authentic Tibetan objects, including incense, wall hangings, and jewlery at very reasonable prices. Many items are around $10.00 and make beautiful, unique Christmas gifts while directly supporting a very worthy cause.
Visiting one of the Sacred Arts of Tibet Tour venues just to hear a lecture, see the art, or purchase some gifts is reason enough to take time from the increasingly frenetic pace of the holiday season.
If you attend an event and hang out with the monks, you may find the experience to have a startingly visceral component.
When in the presence of very attractive, wealthy, or famous people, their charisma can cause us to experience feelings of excitement to simply be near such individuals in the flesh.
These monks own nothing, most of average looks; none of them are famous. Some folks feel pity at the monk's essential lifestyle, and will give them things. Monks will not keep gifts; they will give them away, not out of lack of gratitude, but because they know that they already have everything they need. Posession of any items other than their robes, footwear, bowl, and ritual items, would be but encumberances.
Absent the attributes of what we typically consider "success", why does being in the presence of these monks make one feel their energy, their charisma so strongly?
When I arrived to see the monks at the University of Scranton, I walked up to one who was not working on the mandala, and greeted this perfect stranger with the same affection as if he was an old friend. He rsponded in kind. Despite him knowing no English, and me knowing no Tibetan, we took a 'selfie' together, and giggled at the result. Still laughing, he squeezed my hand as would any close friend.
In addition to sharing their culture and raising money for housing, perhaps even more importantly, another stated purpose of their visit is to acquaint us, or remind us of the importance of practicing compassion and loving kindness toward each other.
These monks dedicate their lives to becoming experts in technologies and philosophies, thousands of years old, of how to be a better human being.
Knowing the bondage posed by unecessary posessions, they practice poverty. They rarely eat much more than necessary to sustain themselves. They work. They pray. They meditate. They love one another. They commit their lives to the service of others. They love strangers as they love their family and friends.
Their faith is so highly evolved, they live, they love, without fear.
They recognize all other beings, humans and otherwise, as creatures of divinity, cherishing and respecting them deeply.
It seems very appropriate to have the message of gratitude, respect, faith, love, and service to others, so strongly presented to us, particularly at this time of year.
Even more special that this message is presented by sacred, smiling folks who, unbeknownst to us, pray for our well being every day, whether they are visiting in our midst, or from half a world away.