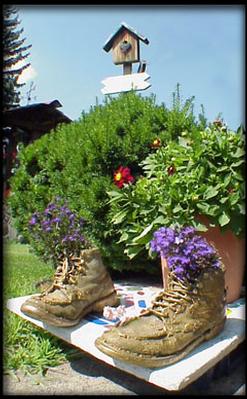 Bernie's gilded boots,
worn no more, last step taken.
Now, back door sentinels.
This last pair of many,
first donned, same as the rest,
smooth and anonymous.
All worn, worn out,
through darkness and day,
cold and hot, wet and dry,
Calloused feet,
more comfortable unshod,
wore and smoothed leather lining.
Toiled steps
creased, soaked, scarred, and scuffed,
skin, hide and sole.
Observers now, and evidence of,
a vital, irresistible habit of industry,
gapped only by well deserved sleep.
Responsibilities fulfilled shine these boots.
No longer partners in toil,
now, adornment to life well spent.